Experience Surprise:
                            sur·prise
                            sə(r)ˈprīz
                            noun
             1.  an unexpected or astonishing event, fact, or thing.
             2.  denoting a class of complex methods of change-ringing.

Expect the unexpected this summer with the Crave Culinaire Pop-Up Dinner Series. Find yourself breathing in the ambiance of an undisclosed
location where the only thing you can be certain of is the brilliance of flavor combinations and the element of awe.
These dinners portray Crave's philosophy at its finest "Giving
our guests an experience that will heighten their senses, provoke their emotions, tease their palates, and make them smile".
It is safe to say that Naples has never seen anything like this; an atmosphere to immerse yourself in a culinary journey that will open us up to exploration, temptation, and obscurity.
Give your senses what they crave this summer with Crave Culinaire's Underground Pop-Up Dinner Series 2014.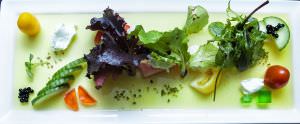 *Each dinner will be in a different location, which will be unveiled 48 hours prior. *All guests will sign up for a $10 membership fee included in the ticket price. *Tickets will be available to purchase on our website. *Each event will be BYOB, glasses will be provided. *Reservations are "First Come First Serve" and limited to 26 guests. *Menu varies based on seasonality and market availability. *Dietary restrictions can be accommodated with 48 hours notice.
 
Click Below to View Our Trailer
Our Second Dinner is July 23, 2014 at 6:30pm

To Learn More About Crave Culinaire CLICK HERE
A Portion of the Proceeds will be going to:

FAQ's
How much are tickets?
Ticket price will vary based on the event. Please click the "purchase now" button to view the ticket price for this event.
What do the tickets include?
The ticket price includes entrance to the Underground Dinner for the date that you have purchased. The dinner may range from 8-10 courses depending on the evening. There may be passed champagne during the reception, but other than that no alcohol is included and we highly recommend that you bring your own favorite wines for the evening.  
Who do we sit with at the dinner? Can we sign up with friends?
Based on the location of the dinner there will be different seating arrangements to accommodate the atmosphere we are trying to create. You are welcome to purchase tickets with friends and we will try our best to accommodate your seating requests. Please keep in mind that this is an interactive eating experience that will be very fun to share with other people, but it will not be the place to catch up on what people are doing this summer.  
How long will the event last for?
The event will last for approximately 4.5 hours  
What do I wear?
While you are welcome to wear whatever you like, we recommend cocktail chic attire.  
How many tickets are you selling?
Depending on the location of the event we may be selling anywhere from 20-26 tickets for the evening.  
Where do the dinners take place?
The dinners may take place at any venue between Naples and Fort Myers. You will be given the address only 48 hours in advance. Remember, by purchasing this ticket you are part of an elite dining club in which only its secret location will be revealed to you.  
How do we know what types of wine to bring?
Since all elements of the menu are "top secret", chef recommends you attend with some of your favorite easy drinking wines from your cellar that you have been saving for a special occasion.  
If  I purchase a ticket and then find out a few days before that I am unable to attend can I be refunded?
Unfortunately, due to the quick turnaround of these dinners we do not offer refunds. Although if we have a waiting list we would be happy to sell your tickets to the next person on the list, or you are welcome to find someone on your own to take your place.  
Can I take pictures at the dinner?
We kindly ask that you do not take pictures at this event. We will have a professional photographer there to capture every moment and we will share those pictures with you after the event. Please sit back, relax and focus all of your senses on taking in everything around you, we would hate for you to miss any thing