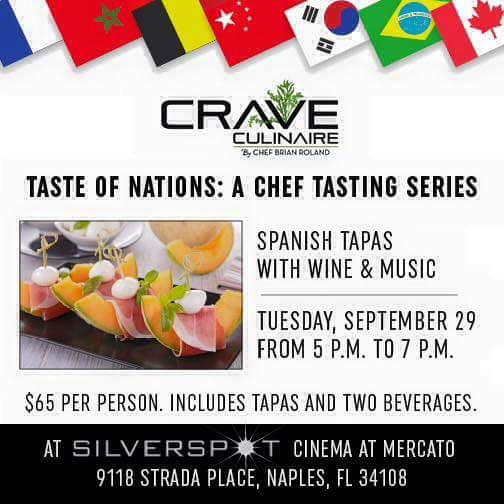 Silverspot Cinema, 9118 Strada Place at Mercato, has launched a monthly chef tasting series, "Taste of Nations," featuring notable area chefs and international cuisine, starting Tuesday, September 29 from 5 p.m. to 7 p.m.  Tickets are $65 per person.
Team Crave  will tempt your palate with flavors of Spain (Please see below the menu), including a variety of Tapas, a Buffet and Sweet Cravings.
Tickets include two beverages per person (a selection of domestic and import brews, house wine and select cocktails).  Additional beverages may be purchased at Happy Hour prices.  Space is limited. For Ticket purchase click here or call 239-592-0300, ext. 126.
MENU:
Variety of Tapas
Buffet
Catalonian Patatas Bravas con Jamón Serran – Fried Yukon Gold, Spanish Ham, Smoked Tomato Aïoli
Cabrales Tarta de Queso – Savory "Cheesecake," Artisanal Blue Cheese, Balsamic Syrup, White Truffle Cream
Red Snapper Crudo en Escabèche- Jerez Gran Reserva Vinegar, Roasted Fennel and Sweet Pepper, Smoked Paprika Tortilla Crisp
Action Stations
Tortilla de Papas, Queso de Cabra- Spanish Omelet, Purple Potatoes, Bell Pepper, Spinach, Goat Cheese, Reggianito Cloud, Micro Cilantro
Salmon a la Plancha- Cast Ironed Scorched Confit of Salmon, Sweet Corn Cake, Crema de Rucula
Sweet Cravings
Burnt Orange Flan- Dulce de Leche Creme, Basil Crystals
Churro Bites- Mexican Hot Chocolate & Mixed Berry Powder
Mini Manchego Cheesecakes- Caramel Popcorn, Cinnamon – Graham Cracker Crust